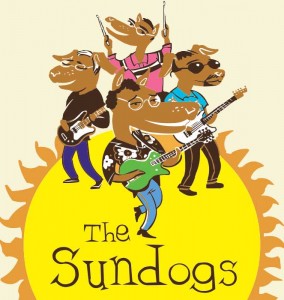 The Sundogs are a four-piece cover band based in Fitchburg, WI.  We specialize in fun classic rock and pop-rock tunes from the 60s, 70s, 80s, 90s, and yes, even the present.  We're especially fond of the Beatles, Rolling Stones, Cars,  Creedence Clearwater Revival, Eric Clapton, the Eagles, and other guitar-oriented bands of that era.  We've been told by many of our enthusiastic fans, which range from college students to Baby Boomers, that we play "just the right stuff" from the Golden Age of rock.  But a growing number of our songs are drawn from the past few years:  Oasis, Green Day, Fastball, Semisonic.
Click here for our playlist and other crumbs of useful info.
The Sundogs are
By day (and often night as well), Jon and Grant are professors of meteorology at the University of Wisconsin-Madison.  In fact, a fair number of the people who turn up at a Sundogs gig are students who still can't believe their professors are in a rock band.  Graham works for Thermo Electron Corporation, and Patrick recently got out of banking to start his own  business in electronic repair and maintenance.
In other words, we're all a bunch of white-collar establishment types for whom playing in a rock band is an adolescent fantasy come true.   Other guys our age fuss over their lawns, their boats, or their stamp collections.  We, on the other hand, blow off work-related stress by turning our amps to eleven and belting out Revolution or Fortunate Son.  Be honest, which would you rather do, if you could?
If you've read this far, you probably suspect us of being total hacks.  But au contraire, we are at worst only partial hacks, as demonstrated by the fact that people sometimes press money into our hands to thank us for playing!   At least that's what we think they're saying.   Hard to tell when their speech is slurred like that.